+ ORIGAMIC
installation éphemère séléctionnée dans le cadre du FAV (Festival des Architectures Vives)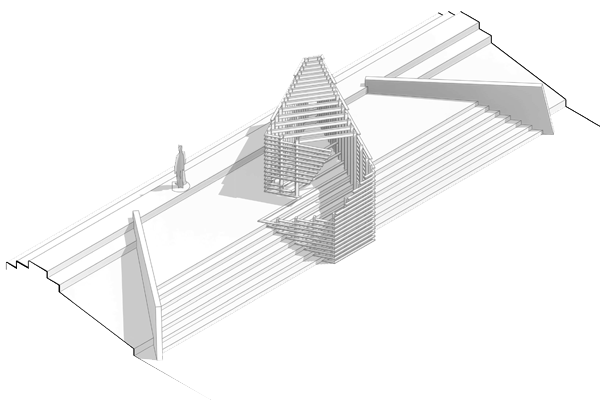 Localisation: La Grande-Motte (34)
Maître d'ouvrage: Festival des Architectures Vives
Coût: 6K€
Surface: 15m²
Calendrier: Livré Juin 2015

Architecture: PLUS Architectes

La thématique du nombre fait intervenir de nouveaux horizons et la nécessité de témoigner d'un passage entre le passé, l'instant présent, et le futur. La forme d' « Origamic » nous replonge en enfance en nous remémorant l'image un bateau en papier déposé sur une digue dans une dimension hors du temps.

« Origamic » se veut être une expérience sensorielle, faisant intervenir l'imaginaire et l'inconscient collectif. Cet espace-temps prend place hors de la frénésie de laquelle nous sommes tous inévitablement les sujets pour laisser place à la délicatesse et au confort de la pratique du lieu.

L'expérience est amorcée au détour d'une voile à travers un jeu d'arceaux se succédant en clin d'œil aux anciennes éditions du FAV. La finalité de ce voyage ludique est une dixième « marche » dématérialisée au sein d'un interstice privilégié entre la rigidité de la terre et la fluidité de la mer, en harmonie avec le lieu et offrant une relecture d'une mer méditerranée en spectacle.


The theme of the digit is introducing new horizons together with the need to witness of a passage between the past, the present moment, and the future. The shape of "Origamic" is driving us back to our childhood bringing back the image of a paper boat left alone on a dyke in a timeless dimension.

"Origamic" claims to be a sensory experience leading to fantasy and collective unconscious. This time frame takes place beside the frenzy we are inescapably subject to opening the door the finesse and the ease of practicing the place.

The experience is initiated at the turn of a sail, through a play of hoops succeeding giving a wink the previous editions of the FAV. The purpose of this playful journey is a tenth "step" dematerialized within a privileged crack between the stiffness of earth and the fluidity of the sea, in harmony with the place, and offering a proofreading of a Mediterranean Sea making a scene.